Waste no more with InterSORB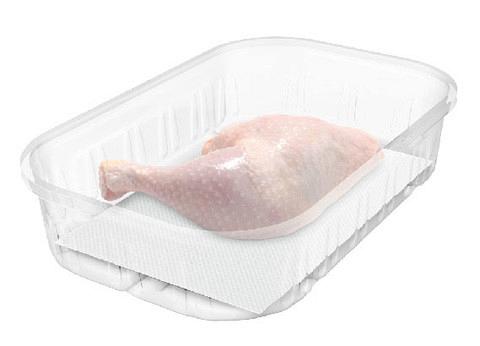 Every year, 88 million tons of food disappear into the trash can. More than half of the food wasted comes from households. We throw away of 170 kg of wasted food per person per year. InterSORB ® extends the shelf life of fresh products and prevents the growth of bacteria and mold.
Meat
A clean, fresh presentation of meat has a major influence on the consumer's purchasing decision. If you have the choice between a piece of meat that is in its own blood and juice or a piece of meat that is neatly placed on a dry mat, the choice is also made quickly. Meat that is not sold in the supermarket disappears in the trash.
The InterSORB ® absorption mats improve the presentation of the product. The absorbers absorb the moisture that leaks from the product, keeping the packaging clean. As a result, the bacterial growth in the packaging is reduced to a maximum and the product stays fresh longer. The cleaner presentation makes it more attractive to buy the product. Extending the shelf life ensures that the consumer has longer to consume it. In this way, food waste is significantly reduced.
Fruit
Fruit that is picked in the morning is often still moist. If the berries are placed in a plastic packaging without InterSORB ®, the fungi will quickly grab around. There are fruit pads especially for packing berries and other fruit. These ensure a fresh presentation and absorb the condensation from the packaging so that bacteria and fungi have no chance.
Seafood
The absorption mats of Inter Fresh Concepts also offer a solution for the shelf life of fish. With different recording capacities, dimensions and finishes, our range always offers a solution to extend the shelf life of your product.
Curious how we can help you extend the shelf life of your product? Contact our specialists for tailor-made advice.